Mortgage Lenders Ready to help you today!
Be sure to mention Maria Palacios, REALTOR from Rigel Realty, sent you!
Claudya Gutierrez
University Lending Group ~ The Smart Choice for MortgagesSubsidiary of University BankSr. Loan Officer | NMLS #208591
909 NE Loop 410 Suite 903
San Antonio TX 78209 Cell | 210.885.4109 Fax | 248.254.8753 cgutierrez@university-lending.com
Loved our service? Review us on Google & Facebook
Edgar Ramirez
Loan Originator
NMLS# 1058999
Phone: (832) 642-1737
"Town Square is a local mortgage lender where all the steps of your loan are done here locally and not outsourced, which means better, faster and more tailored to your needs. We strive to give you personalized, one on one service, and we promise you will never have to sit through an automated system. Call me today, or feel free to utilize any of the interactive tools offered throughout the site. I look forward to working with you."
Ahora tambien disponible en espanol!
Gracias por la oportunidad en ayudarle financiar la compra de su nieva casa! Aqui le envio el enlace para hacer su solicitud. Me llama por cualquier pregunta a su conveniencia."

Joann lopez
Loan Originator
NMLS #327118
Direct 832.447.1241
Cell 832.326.2974
Fax 832.447.1253
"As your Loan Officer, I am committed to walking along-side you through every step of the journey to home ownership; from pre-qualification to guiding you to the home loan that's right for you from our full suite of products. I will also be available to either take your application personally or guide you through our intuitive, easy-to-use online mortgage application. My dedication to you doesn't stop once your loan closes. Since Gateway is committed to servicing the loans we originate, you can have a local and trustworthy companion to call on for any of your mortgage needs.
My promise to my clients is to provide transparency, timely communications, and excellent service. I am committed to building stronger communities and families one home at a time. Call me today, and let's get started!"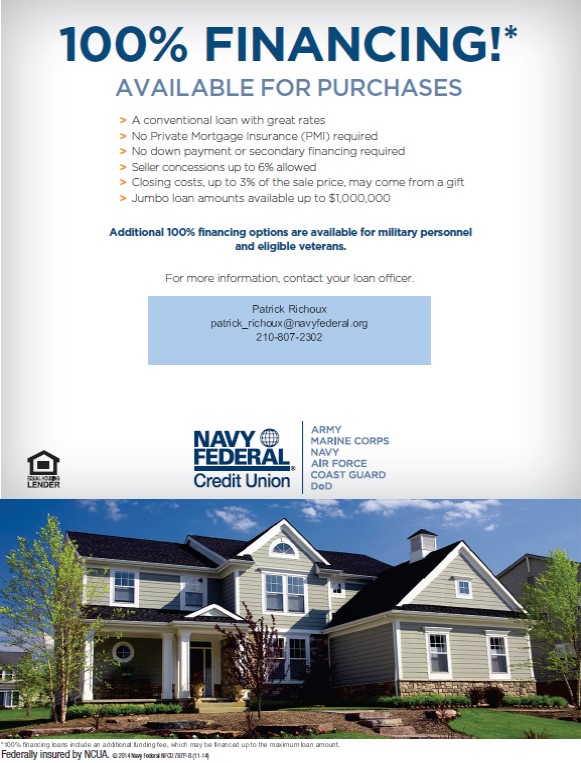 (Offer is provided by NFCU via the indicated agent)
Patrick Richoux
Mortgage Loan Officer IV
Navy Federal Credit Union
17806 IH 10 W Ste 300 San Antonio Texas 78257
Email patrick_richoux@navyfederal.org
Direct or Phone: extension 210-807-2302
navyfederal.org
"we can do second homes with as little as 5% down and we can also do non-warrantable condos!!!"